For Colorado nonprofits, the change starts with you.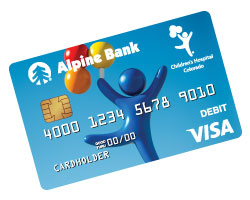 Each time you use your CHILDREN'S HOSPITAL COLORADO Loyalty Debit Card, Alpine Bank donates 10 cents to support Children's Colorado and their extraordinary care for children of all ages and stages of growth. And those dimes add up! Alpine has donated a total of $947,800 since 2017. This special Visa® debit card is available with no annual fee to individuals with an Alpine Bank checking account.
We can print your Loyalty Debit Card for you on the spot. Immediately access your accounts and get started right away.*
Enjoy the benefits of our debit card rewards program Change Matters® and Apple Pay®, Samsung Pay or Google Pay™.
Alpine Bank is part of the Allpoint® ATM network—enjoy more than 43,000 surcharge-free ATMs across the U.S.**
Learn more about all of our Loyalty Debit Cards here.
Open an account and select your Loyalty Debit Card here.
---
"Our 10-year-old son, Gavin, was diagnosed with stage 3 non-Hodgkin's lymphoma in July of 2017. Today, Gavin is cancer free. We are so thankful for Children's Colorado."

-Karrie Fletcher, president of Alpine Bank Cherry Creek and Jason Fletcher, regional operations supervisor, Alpine Bank Union Station
"Born with what would best be described as club feet, I had numerous operations at Children's starting at the age of three. Thanks to Children's Colorado, I have been living a great, normal life."

-Norm Franke, president, Alpine Bank Front Range
"I am personally very thankful for Children's Colorado. My son was born with a condition called Craniosynostosis, and he was admitted to Children's Colorado to have major surgery just before his first birthday. The doctors, nurses and staff were amazing during the entire process."

-Mary Chavez, valued customer
"My daughter was born with Down Syndrome, and she had to have heart surgery when she was two and a half months old. Children's Colorado was absolutely wonderful, because that was the hardest day of my life. She is now 11 years old."

-Lisa Jacobson, teller, Alpine Bank Mesa Mall