For Colorado nonprofits, the change starts with you.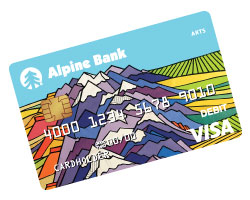 Each time you use your ARTS Loyalty Debit Card, Alpine Bank donates 10 cents to nonprofit organizations that support your community. And those dimes add up! Alpine Bank has donated a total of $1,401,886 to support the Arts since 2004. These special cards are available with no annual fee to individuals with an Alpine Bank checking account.
We can print your Loyalty Debit Card for you on the spot. Immediately access your accounts and get started right away.*
Enjoy the benefits of our debit card rewards program, Change Matters® and Apple Pay®, Samsung Pay or Google Pay™.
Alpine Bank is part of the Allpoint® ATM network—enjoy more than 43,000 surcharge-free ATMs across the U.S.**
Learn more about all of our Loyalty Debit Cards here.
Open an account and select your Loyalty Debit Card here.
---
Vallee Noone grew up in the Roaring Fork Valley and worked and traveled all over the world before deciding that this really is the best place on earth to not only live but to draw inspiration for her work.
Throughout her twenties, she explored all manner of media--from paint and clay to graphite and even some performance art--but all efforts ended in frustration, with a feeling that the media was falling short in some elusive and maddening way.
On a whim a few years ago, Vallee cut a piece of cardboard into the shape of a mountain and something clicked. The clean, decisive nature drew her in and she has not stopped cutting since. Prior to discovering paper, Vallee's work was decidedly more frenetic, often involving splatter or deconstruction. Vallee describes watching with amazement as the delicate pieces took shape.
All of Vallee's art pieces are now comprised entirely of paper, including Alpine's Arts Card. She begins with the outline color, which is one sheet of paper. She cuts the paper down until it is lace and then uses it as a frame to which she affixes the other pieces of paper.
When Vallee is not in her studio she can be found rafting the rivers and exploring the endless beauty this state has to offer.