Open a CMC Checking Account Card
For Colorado nonprofits, the change starts with you.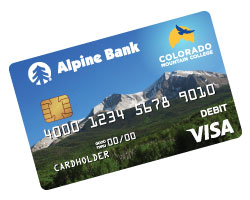 Each time you use your COLORADO MOUNTAIN COLLEGE Loyalty Debit Card, Alpine Bank donates 10 cents to nonprofit organizations that support your community. And those dimes add up! Alpine has donated a total of $912,030 since 2007. These special cards are available with no annual fee to individuals with an Alpine Bank checking account.
We can print your Loyalty Debit Card for you on the spot. Immediately access your accounts and get started right away.*
Enjoy the benefits of our debit card rewards program Change Matters® and Apple Pay®, Samsung Pay or Google Pay™.
Alpine Bank is part of the Allpoint® ATM network—enjoy more than 43,000 surcharge-free ATMs across the U.S.**
Learn more about all of our Loyalty Debit Cards here .
Open an account and select your Loyalty Debit Card here.