For Colorado nonprofits, the change starts with you!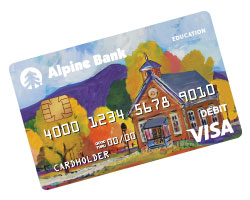 Each time you use your EDUCATION Loyalty Debit Card, Alpine Bank donates 10 cents to nonprofit organizations that support your community. And those dimes add up! Alpine has donated a total of $4,875,435 since 1997. These special cards are available with no annual fee to individuals with an Alpine Bank checking account.
We can print your Loyalty Debit Card for you on the spot. Immediately access your accounts and get started right away.*
Enjoy the benefits of our debit card rewards program Change Matters® and Apple Pay®, Samsung Pay or Google Pay™.
Alpine Bank is part of the Allpoint® ATM network—enjoy more than 43,000 surcharge-free ATMs across the U.S.**
Learn more about all of our Loyalty Debit Cards here.
Open an account and select your Loyalty Debit Card here.
---
Mary Noone (1956-2022) pioneered visual and performing arts and culture in the Colorado high country. After she and husband Bob settled in the Roaring Fork Valley in the early 80s, they founded the Summer of Jazz outdoor concert series together. And for 40 years, Mary interpreted regional scenes in her vivid plein air paintings.
Amid a rapidly changing mountain West, Mary saw iconic landscapes and architecture with fresh eyes — like this Canyon Creek schoolhouse — then portrayed the places on canvas to be enjoyed in perpetuity. A mother of three, prolific painter and beloved community contributor, Mary's legacy is as brilliant and colorful as her artworks.