For Colorado nonprofits, the change starts with you!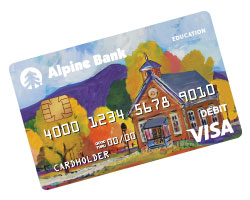 Each time you use your EDUCATION Loyalty Debit Card, Alpine Bank donates 10 cents to nonprofit organizations that support your community. And those dimes add up! Alpine has donated a total of $4,522,157.00 since 1997. These special cards are available with no annual fee to individuals with an Alpine Bank checking account.
We can print your Loyalty Debit Card for you on the spot. Immediately access your accounts and get started right away.*
Enjoy the benefits of our debit card rewards program Change Matters® and Apple Pay®, Samsung Pay or Google Pay™.
Alpine Bank is part of the Allpoint® ATM network—enjoy more than 43,000 surcharge-free ATMs across the U.S.**
Learn more about all of our Loyalty Debit Cards here.
Open an account and select your Loyalty Debit Card here.
---
Colorado artist Mary Noone has been a painter for more than 45 years. Although this may not garner the traditional gold watch quite yet, this milestone it is worth acknowledging.
Mary received her bachelor's from Georgetown University in Fine Arts and American Studies. She has explored pottery, furniture, painted fabric, murals and quilting. Pattern and color are the essence of her work.
Mary draws energy from her passion for color. During the summer months, Mary paints outdoors, seeking out everything from hay bales to mountains amid the diverse landscapes of western Colorado. In the winter, flowers and her dogs take center stage as her primary subjects.
Mary's style is easily recognizable. Her bold use of color and her refreshing palette draw collectors and patrons from around the country. And her work is included in many private collections.
For her it all comes down to the love of color and paint.