For Colorado nonprofits, the change starts with you.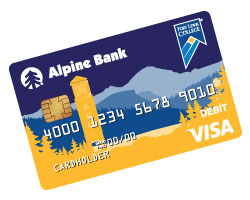 We believe in #FLCFOREVER and we know you do, too!
We're thrilled to present an opportunity to put your money where your heart is! Introducing the FLC Forever/Alpine Bank Loyalty Debit Card.
Every time you use your FLC Forever Loyalty Debit Card, Alpine Bank will donate 10 cents to Fort Lewis College, ensuring the institution remains the Four Corners' stronghold of academic excellence for the next generation of entrepreneurs, cyclists, educators and game changers.
And those dimes add up! Alpine has donated a total of $52,149 since this card came on the scene in 2019. These special cards are available with no annual fee to individuals with an Alpine Bank checking account.
The future of FLC begins with a healthy foundation, one built on today's scholarships, today's campus infrastructure, today's academic programs and today's research opportunities – all made possible by your support. Join us in saying we need FLC here forever. Join us in saying we believe in #FLCFOREVER.
Open an account and select your FLC Forever Loyalty Debit Card here.
Don't live near an Alpine Bank location, contact us here.
Learn more about all of our Loyalty Debit Cards here.
We can print your Loyalty Debit Card for you on the spot. Immediately access your accounts and get started right away.*
Enjoy the benefits of our debit card rewards program, Change Matters® and Apple Pay®, Samsung Pay or Google Pay™.
Alpine Bank is part of the Allpoint® ATM network—enjoy more than 43,000 surcharge-free ATMs across the U.S.**
---
Eric Eicher, president, Alpine Bank Durango and FLC alumni, presented the first FLC Forever Loyalty Debit Cards to Dr. Steven Elias, dean of the FLC School of Business Administration and Skyler, the FLC mascot, accepted the card on behalf of Fort Lewis College President Tom Stritikus.
Alpine Bank has committed $100,000 to the FLC Forever Fund over the next 3 years, and made $50,000 available immediately. On Tuesday, June 4, 2019, the first two grants were awarded to the Grub Hub and Glenna Sexton Student Development Fund for $5,000 each.
The Grub Hub is a food security program that ensures students don't have to choose between food and academics, providing free pantry items as well as a hot meal once a week. The Glenna Sexton Student Development Fund provides grants to help cover conference or training fees for eligible students seeking leadership and professional development opportunities. A campus committee will review grant applications and work with Alpine Bank and FLC leadership to determine how to award more grants across campus going forward.
Dr. Rebecca Clausen, associate professor of Sociology and Human Services at Fort Lewis College accepted the donation on behalf of the Grub Hub and Jeff Dupont, FLC vice president of Student Affairs accepted on behalf of the Glenna Sexton Student Development Fund. Also pictured are Eric Eicher, president and Beth Drum, senior vice president of Alpine Bank and Fort Lewis College Foundation Board President Keith Newbold.