For Colorado nonprofits, the change starts with you.
OUR LATINO COMMUNITY LOYALTY DEBIT CARD MAKES PERFECT CENTS!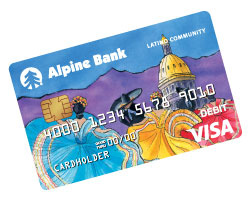 Each time you use your Latino Community Loyalty Debit Card, Alpine Bank donates 10 cents to nonprofit organizations that support your community. And those dimes add up! Alpine has donated a total of $555,058.00 since 2007. These special cards are available with no annual fee to individuals with an Alpine Bank checking account.
Some organizations that have benefited are Latino Community Foundation of Colorado, Aspen Santa Fe Folklórico, Western Colorado Latino Chamber of Commerce, Hispanic Affairs Project, Kenzi's Causes, Child and Migrant Services, Valley Settlement, BeLingual Kids, YouthPower365, The Cycle Effect and English in Action.
We can print your Loyalty Debit Card for you on the spot. Immediately access your accounts and get started right away.*
Enjoy the benefits of our debit card rewards program, Change Matters® and Apple Pay®, Samsung Pay or Google Pay™.
Alpine Bank is part of the Allpoint® ATM network—enjoy more than 43,000 surcharge-free ATMs across the U.S.**
Learn more about all of our Loyalty Debit Cards here.
Open an account and select your Loyalty Debit Card here.
---
Watercolor artist Linda Nadel created the vibrant new Latino Community Loyalty Debit Card. Alpine Bank is proud to feature her colorful artwork on this new card. Some background on Nadel and her art:
"I believe we all have an inner desire to express ourselves creatively. I express myself best using my paints as my voice. And it's in that moment when my brush touches the paper that I invite you to stay and enjoy that place, too."
"I started painting in earnest in the mid-1990s. I took my first art classes with my mentor Wayne Mayfield where I discovered my true passion, watercolor. I'm fortunate to have a studio behind my home in Montrose and offer workshops in "watercolor basics" and have had ongoing classes there since 2000. I have had the honor of being selected as a volunteer art instructor for 4 years for the Yosemite Art & Education Center at the Yosemite Conservancy."
"You can find several of my paintings on permanent display in the private collections of Alpine Bank, Montrose and Durango branches and Weaver & Fitzhugh Law Office, Montrose."
Artist's statement:
"When I am in my artistic space I am the real me. Being creative puts me in a quiet place where I feel the world just sort of drift away and I focus on where I am at that moment. My favorite paintings are the ones that look like they just appeared almost magically. So. Maybe the magic is in getting out of the way and letting the real me create something that I didn't even know was going to happen."