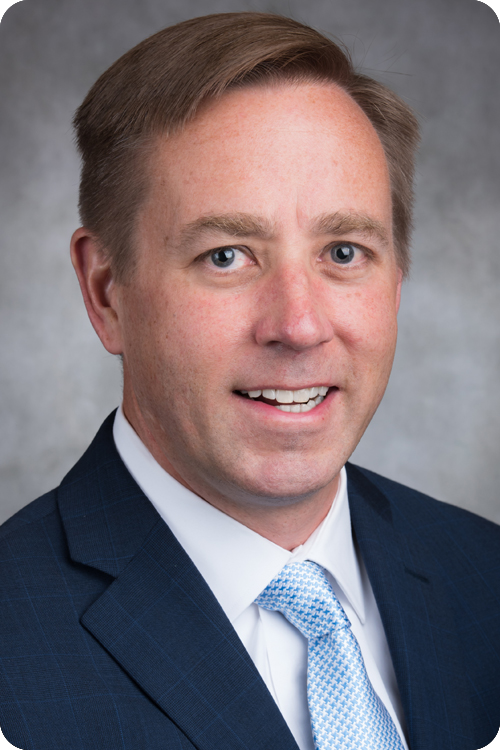 Andrew Karow
Chief Operations Officer
Andrew Karow is the chief operations officer for Alpine Bank, a role he took on in 2022, after having been the chief digital officer since 2015. As the executive team member responsible for information technology, digital banking, operations and wealth management, Andrew's influence in the organization is broad and deep.
Andrew's leadership focuses on high levels of service to those around him. His outcome-oriented, optimistic and analytical style have been foundational to his success. Andrew's path to corporate leadership has been lifestyle-driven, and — somewhat unconventional.
He first earned a bachelor's in economics in 1990, from the University of Wisconsin Madison. The coursework in finance, banking and real estate solidified Andrew's desire to become an innovator in the banking industry.
He moved to Colorado after his undergraduate studies and earned his master's in business in the first-ever University of Denver Mountain MBA program in Vail. He was recruited as an Alpine Bank officer trainee in 1996 and successfully grew the Vail branch for five years.
From Vail he was chosen to run the sole acquisition in Alpine Bank's 50-year history, in Telluride. Andrew proudly recounts that a majority of the original employees were still there a decade later; a nearly unheard-of achievement in the face of new ownership and management.
A lifelong learner, he has continued his education and training beyond his MBA, earning a certificate in financial technology from Harvard University in 2019 as well as a credential from the Graduate School of Banking.
Andrew serves on the board of Ross Montessori Public Charter School in Carbondale, where he lives with his wife Katie. The couple are parents to two children, a teen and a young adult. Andrew still loves to catch a powder day in the winter, and spends his summer leisure time running on mountain trails.
BACK TO TEAM